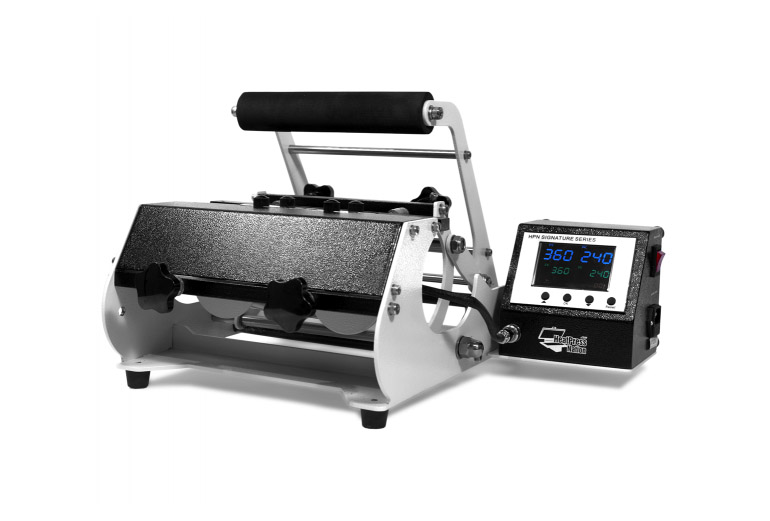 HPN™ Signature Series™ Automated Mug Cup Heat Press
The HPN Signature Series Mug Heat Press machine is a professional grade mug press designed to easily and efficiently heat transfer custom images onto standard mugs and water bottles. From small sized graphics such as names and logos to full wrap, edge to edge images the HPN Signature Series Mug Cup Heat Press delivers exceptionally high-quality sublimation transfers every time. The thick, solid steel framework offers durability for full production use in any home or commercial environment while the state of the art digital computer gauge accurately displays and regulates time and temperature.
HPN Signature Series Logo
What sets the HPN Signature Series Mug Heat Press apart from other mug presses is its high-grade heating element. The heating coils built into the heat mat are dramatically thicker than the industry standard, resulting in a significantly more even temperature distribution and longer life of the heating element. Designed for efficiency, the Signature Series heating elements conduct a very quick heat up the process and distributes heat evenly while maintaining maximum heat retention with every press.
The HPN Signature Series Mug Cup Heat Press can accommodate 11 & 15 oz. standard mugs. The unmatched quality and affordability of the HPN Signature Series Mug Cup Heat Press Machine put it in a class of its own. It is sure to become a favorite of business owners and heat transfer enthusiasts everywhere.
HeatPressNation.com provides FREE lifetime technical support for all of our heat press brands.
Specifications:
Accommodates 11, 15 oz. sublimation mugs
Time Range: 0-255 Seconds
Temperature Range: 0° - 415° F
Electrical: 300W / 2.8A / 120V
Shipping Weight: 31 lbs
Features:
Full mesh Grade A heating element with complete wrap around and top-to-bottom coverage
4-point pressure adjustment system
Steel frame construction
Dual display temperature and timer microprocessor gauge